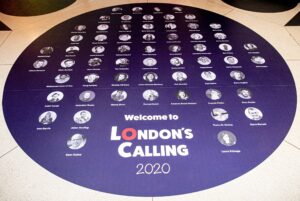 Can you grab a spot on our 2022 speaker 'splat'?
This is your opportunity to share your expertise with our wonderful community as we have opened the call for presentations for London's Calling 2022.
LC22 will be held at The Brewery in London on the 10th June and so we ask you to consider –
What knowledge have you gained that could help someone else starting out on their Salesforce journey?
Do you have a unique perspective that you haven't seen shared at other events?
Think back, what do you wish you knew a year or two ago?
We welcome presentations on all areas of the platform, for all levels of experience. You do not have to be a seasoned speaker to apply, if you have the knowledge to share, and you prepare a compelling presentation title and abstract, then you have a real chance of being selected.
A key thing to remember is to spend some time on the submission. The CFP form includes space for a title, abstract, and also a section to let the content team know why you think it'd be a great session for London's Calling, and all three of these fields are key to the success of your application. Your title should be catchy and informative, and your abstract should hold all the information an attendee needs to know to make a choice to come to your session, letting them know what to expect, and how your content is going to be of value to them.
You have until the 13th February (11.59pm GMT) to submit your presentation ideas.
Considerations
You may apply more than once, but we are very unlikely to select more than one presentation per speaker.
Community events are our opportunity to learn from each other, so we remind you that you should be submitting your presentation as an individual, and not on behalf of your employer. All London's Calling sessions are learning orientated and not sales opportunities, and with that in mind, no product placement or promotional slides will be tolerated.
We will send email notifications of status (accepted/declined/waitlisted) to all applicants by 10th March 2022.
Successful applicants will receive a free ticket to London's Calling, but all other costs and arrangements (transportation, accommodation, visas etc) must be managed and covered by the individual.
READY? GREAT THEN APPLY HERE
If you have any more questions then feel free to reach out to us on [email protected]
Posted 6th January 2022 in: Event by Louise Lockie
---