Say Hello to our First Ever Caricature Sponsor
Have you ever wondered what your portrait may look like? Well, wonder no more. At this year's London's Calling we have a very talented Caricature artist on site to draw you and bring out your best features. Share your new head-shot on social channels and update your linkedin profile with it. Take home a hard copy photo of your portrait as a souvenir too.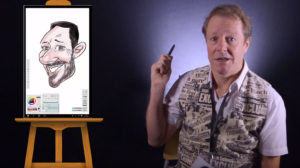 Brightgen will be our hosts and sponsors of our Caricature artist and you will find them in the Expo room. Pop along to hear how Brightgen can help with your implementation needs while Rick, our onsite caricature artist picks out your striking features.
Brightgen is a Salesforce Platinum Cloud Alliance Partner who likes to work strategically with their clients to break large transformational programmes into smaller projects that generates value at the earliest possible point. The flexibility of Brightgen, with the power of Salesforce, means their clients business' can evolve faster and respond to today's business problems and challenges with agility and confidence.
Posted 21st February 2020 in: Event by Amanda Beard-Neilson
---
UP