You could say that 2019 was the year of the Salesforce Architect. Both TrailheaDX and Dreamforce had their first Architect Tracks, with their own dedicated theatres. Zayne Turner was appointed Salesforce's first Principal Architect Evangelist. A new mascot – Ruth – was introduced to represent the Architect community, and Ladies Be Architects celebrated record numbers of female Application and System Architects, as well as a couple of new female CTAs.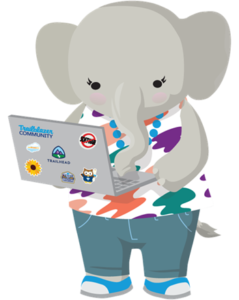 Last year's London's Calling featured a number of presentations on and from Salesforce Architects, but for this year's event we have upped the ante and are pleased to present a very full track of excellent sessions for our Architect community.
Travelling all the way from Hawaii, Chuck Liddell will be presenting Sharing and Visibility Under The Hood, Matt Morris brings us Salesforce Architecture: The Big Picture, Melissa Shephard will talk us through how to Tackle Your Everyday Business Problems Like an Architect, and Pedro Molina provides Tips to Architect a Future-proof Salesforce Org.
What's more, Abrar Ul Haq is back for a 2nd London's Calling in a row, this time with Cross Object Interface – The New Salesforce Object Framework, we welcome US MVP Mark Adcock with Dear Profiles, It's Not Me, It's You – Breaking Up with Profile Based Security, and from Poland, Maciej Simm and Konrad Karaś bring us Domain-Driven Design architecture patterns in APEX.
Believe it or not, this isn't all, there is more on the Architect track, but surely this is enough to whet your appetite. Go ahead and check out the full agenda on our website. Don't miss out!.
Posted 31st January 2020 in: Event by Louise Lockie
---