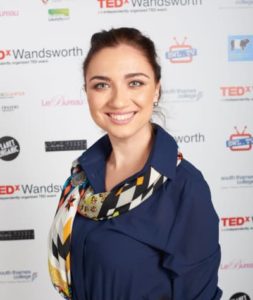 One of my favorite things to do for London's Calling each year is look at our topics, the speakers we have, the environment and choose a keynote speaker that fits within our theme for the event. This year, we're fortunate to be holding our event not only on Salesforce's 20th birthday but also on International Women's Day. Which gave us many possibilities for a theme, maybe even a few too many!
Since fitting in a theme for this year posed a little more challenging with so many things to draw from, I enlisted my trusty co organizers in the process and we decided to take one of the hottest topics in the news and make it our keynote talk this year.
The topic we're highlighting this year is around mind hygiene and how our digital devices affect our brains. We are pleased to announce that Dr Anastasia Dedyukhina will be our keynote speaker this year.
Dr Anastasia Dedyukhina is a coach, TEDx speaker, Huffington Post blogger and author of Homo Distractus. She got rid of her smartphone as well as her senior international career in digital marketing, when she realised how dependent she had become on her gadget. She eventually set up Consciously Digital, a consultancy that helps people and organisations develop a healthier relationship with technology. She is frequently quoted in the press (BBC, The Guardian, Metro etc) talking about digital wellness, tech life balance and the importance of ethical technology, and is a keynote speaker at major international conferences.
Dr. Dedyukhina will talk to us about what makes our devices so irresistible that we want to keep checking them, the science behind digital addiction and give us some practical examples on how to manage our 'addictions'.
We will also have a limited copies of her book, Homo Distractus available at the event for attendees. We are very excited to welcome Anastasia as our keynote speaker this year and are counting down the days until 8 March!
Posted 11th February 2019 in: Event by Jodi Wagner
---