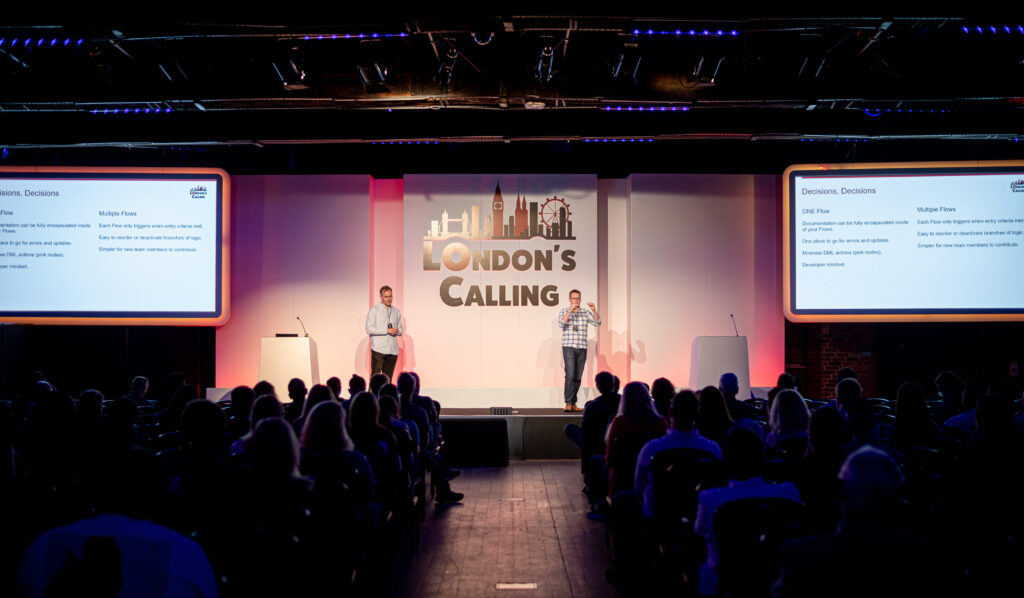 Picture Yourself on this Stage, it could turn into reality if you are successfully selected as a London's Calling 2023 speaker!
London's Calling is an event for the community, organised by community members, and the content is delivered by…. the community!
This is our call to you to submit to share your expertise with the LC23 attendees.
Yes, we have opened the call for presentations for London's Calling 2023!
We welcome presentations on all areas of the platform, for all levels of experience. You do not have to be a seasoned speaker to apply, if you have the knowledge to share, and you prepare a compelling presentation title and abstract, then you have a real chance of being selected.
At London's Calling we pride ourselves on giving our attendees a day jam-packed full of top quality content in return for the ticket price. Read on to see how you could be part of that content.
Submission Guidance
This is a competitive process, only the best submissions will be selected so take your time in writing your title and abstract.
The form itself has several steps, so prepare first and don't try and complete the form on your phone!
Consider your subject matter, what experience or knowledge do you have which could help other community members?
We will aim to select a wide range of subjects so submitting on a new or different area of the platform may give you the edge!
London's Calling is on the 9th June, so bear this in mind, select a subject which will still be relevant in 6 months time.
What format do you want to deliver? Each format and length takes skill to deliver so consider which format fits your subject matter and what length of time is required to share your knowledge on your subject matter. The form asks you to select from:

10 minute Lightning Slot
25 minute Presentation or Workshop
40 minute Presentation or Workshop
Flexible (you will adapt your content to the slot we offer)

The CFP form includes space for a title, abstract, and also a section to let the organisers know why you think it'd be a great session for London's Calling, and all three of these fields are key to the success of your application.
Your title should be catchy and informative, and your abstract should hold all the information an attendee needs to know to make a choice to come to your session, letting them know what to expect, and how your content is going to be of value to them.
Shorter sessions (10 or 25 minutes) can only be delivered by a single presenter, if you want to present as a duo please submit a 40 minute slot.
Additional speakers cannot be added after the selection process is complete.
You may apply more than once, but we are very unlikely to select more than one presentation per speaker.
Community events are our opportunity to learn from each other, so we remind you that you should be submitting your presentation as an individual, and not on behalf of your employer. All London's Calling sessions are learning orientated and not sales opportunities, and with that in mind, no product placement or promotional slides will be tolerated.
All sessions must be delivered in person, in London, on Friday June 9th.
You have until the 5th February (11.59pm GMT) to submit your presentation ideas.
We will send email notifications of status (accepted/declined/waitlisted) to all applicants by 15th March 2023.
Successful applicants will receive a free ticket to London's Calling, but all other costs and arrangements (transportation, accommodation, visas etc) must be managed and covered by the individual.
We recommend you purchase a ticket for the event now if you want to come along and not assume you will get selected and receive a free ticket and maybe miss out! If you do purchase a ticket and you are selected, your ticket will be refunded.
To give you a idea of what has been successful in the past, please review the titles and abstracts from some of the session's from LC22, such as Matt Morris' Diagramming Salesforce Solutions, Fabien Taillon's Build Your Apps Everywhere with LWC Open Source, or Vicki Moritz-Henry's 5 Steps to Deliver an Awesome Demo.
READY? GREAT THEN APPLY HERE
If you have any more questions then feel free to reach out to us on [email protected]
Posted 19th December 2022 in: Event by Louise Lockie
---