Will you answer London's call?
I've been selected to speak at London's Calling this year, which is awesome. I had a talk at the inaugural 2015 event, but ended my streak at one due to a scheduling conflict with my 50th birthday in 2016. I was there in spirit though, through the medium of a cardboard cutout: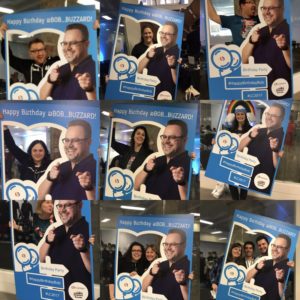 For the uninitiated, London's Calling is a Salesforce community conference, so while it's associated with and concentrating on Salesforce, it isn't run by them. This means that it focuses far less on trying to promote/sell the product and far more on the cool things that everyone is doing with it. Imagine an event that is pretty much the Developer Zone and Admin Meadow from the Salesforce Tour events and you won't be too wide of the mark. Unlike most Salesforce events (outside Dreamforce and TrailheaDX) attendees have to pay to get in, which means that everyone who is there is determined to get maximum value. As a speaker you can expect to receive numerous and detailed questions and, if you are so inclined, to spend time during the end of day networking discussing things in greater detail.
There's a couple of things I really like about London's Calling:
It's not all about Salesforce.
For example, the closing keynote speaker last year was Belinda Parmar, OBE, on the topic of Empathy. It's really easy to get lost in the fun of developing an application and forget there's more to life and work than writing code. Hearing from, and thinking about, people outside of our bubble is always useful and I'd say it's more important than ever in 2018!
It celebrates the local community.
It's very easy to fill the speaking roster with the same names from around the world that everyone is familiar with. The Salesforce MVPs and staff are happy to fly around the world at the drop of the hat, and it's always great to see them, but what you don't want is an identikit series of McConferences around the world featuring the same people giving the same talks. Many of the London's Calling speakers are local (and I include our European neighbours in that) and a surprising number are first timers. Many of them are also giving talks in their second language, astounding me every time with their bravery.
What you'll get from London's Calling 2018 is insight and information from a wide array of Salesforce experts from the four corners of the Earth, some non-Salesforce specific content that will make you stop and think, and me, Bob Buzzard, in the flesh! What more could you want?
Keir Bowden (aka Bob Buzzard) is the CTO of BrightGen, a Platinum Salesforce partner in the UK, 15 x Certified and a 6 time Salesforce MVP. You can follow him on twitter at @bob_buzzard.
Posted 12th January 2018 in: Event by Todd Halfpenny
---
UP