We know London's Calling can be a jam-packed day so it is important to plan your time. To get the most from the day, make sure you schedule some time to check out the ISVs and consultancies exhibiting at the EXPO. We have 14 exhibitors at the EXPO including our Platinum Sponsors, Fluido & Breadwinner. This is a great opportunity to find out more about tools and services that can extend and enhance your Salesforce capability. Visiting booths also gives you the chance to win prizes.
Our Exhibitors
We have a great mix of new and returning EXPO sponsors. Check out who you will see this year:
Clayton
Gearset
Elements.Cloud
Revenue Grid
OwnBackup
WithSecure
Copado
Ortoo Limited
Zumzum Financials
Blackthorn.io
Provar Limited
Panaya ForeSight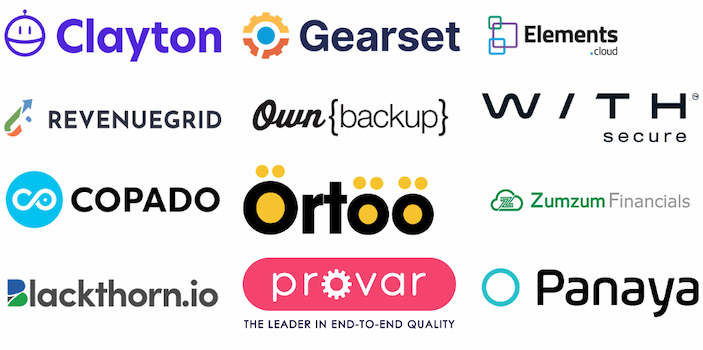 Visit the Booths and win prizes
The great news is that as you visit exhibitors at the EXPO you will be entered for a chance to win a prize. As you get your badge scanned you'll automatically have a virtual sticker recorded in our Passport Contest. Once you've visited a minimum of 8 exhibitors and had your badge scanned by them you'll be entered into a prize draw. Read the full terms and conditions here.
Clayton
Clayton is the modern way to secure your Salesforce developments. It plugs into your repositories in clicks and quickly catches vulnerabilities, giving developers advice on how to address each issue immediately. On an average day, Clayton stops 1679 vulnerabilities before they cause damage.
Gearset
Gearset is the leading platform for Salesforce DevOps, offering unparalleled deployment success, and making it easy for teams to build a streamlined end-to-end release process. From metadata deployments, CI/CD, CPQ deployments, sandbox seeding, and data backup, Gearset gives you the complete toolkit to build a better DevOps process in Salesforce.
Elements.cloud
Elements.cloud helps you accelerate your time to value from Salesforce. It allows you to make intelligent change decisions based on a shared understanding of org configuration, dependency analysis, and documentation. Tightly integrated into DevOps it ensures that teams can collaborate to "build the right thing". It brings teams together and breaks down silos of knowledge and moves them from Heroics to Excellence. Changes are implemented faster and with confidence. Rework is reduced. User adoption soars.
Revenue Grid
Revenue Grid is the Revenue Intelligence platform that allows sales teams to grow on their own terms using Salesforce. What can you do with Revenue Grid Capture sales activity to Salesforce without compromises. With category-leading activity capture and system-native functionality, Revenue Grid syncs with how you sell.
OwnBackup
OwnBackup is the leading cloud data protection platform for Salesforce, proactively protecting you from losing access to mission-critical SaaS data, so you never have to worry about data loss disrupting your business – or your life. Offering comprehensive backup, visual compare, recover and archiving capabilities, OwnBackup protects critical cloud data for more than 5,000 businesses worldwide. Built for security and privacy, OwnBackup exceeds the General Data Protection Regulation (GDPR) requirements for backed-up data and is the top-ranked backup and restore ISV on the Salesforce.com AppExchange with over 400 5 star reviews and counting.
WithSecure
WithSecure Cloud Protection for Salesforce safeguards the Salesforce cloud environment against advanced cyber threats
Copado
Copado is the #1 DevOps Platform for Salesforce and the Market Leader in Low-Code CI/CD and AI-Driven Test Automation for Enterprise Clouds. Backed by Salesforce Ventures and Insight Venture Partners, Copado powers end-to-end digital transformation for 1,200+ global enterprises like Coca-Cola, Ebay, TalkTalk and Volkswagen. Copado has a 100% rating on the Salesforce AppExchange and helps development teams achieve 20X faster releases, 94% fewer production bugs and 46% more Salesforce ROI. Each month, Copado processes 50 million DevOps transactions and upskills 60,000+ tech professionals in the world's largest DevOps Community.
Ortoo
Our mission is to make teams more effective. Ortoo uses a powerful combination of advanced business enablement apps, optimization techniques and productivity strategies to actively transform workforce effectiveness. We revolutionize the way teams and team members collaborate, empowering them to overachieve their goals. Our productivity solutions result in significant improvements in individual and team performance, leading to better outcomes achieved in a shorter space of time. These gains are so impressive that they can transform the fortunes of entire companies. It's time to do more with less.
Zumzum Financials
Zumzum helps you digitally transform finance and accounting on the Salesforce platform. Zumzum Financials SMB Accounting for Salesforce, mobile, social and collaboration solutions deliver dramatic increases in revenues, productivity and profits through enabling greater collaboration. Unify your Sales, Service, Marketing, Accounting and Finance on the Salesforce App Cloud to better connect your people and gain a 360-degree view of your customer relationship. One single business system helps you accelerate your Order-2-Cash and Procure-to-Pay process.
Blackthorn.io
All of your Events, Payments, and Compliance information in one place – Salesforce. Focus on your customers instead of your processes with the top AppExchange Partner for Events & Payments on Salesforce. As the 2021 Salesforce.org Cross-Industry ISV Partner of the Year for Education & NGO in AMER & EMEA, we are hyper-specialists focused on ensuring the best product functionality across all industries. Whether you're looking to adopt a Return on Event mindset through live & digital events or ensure your organization can take payments quickly & securely from anywhere, Blackthorn is the ISV partner for your #digitalacceleration.
Provar
At Provar we are the experts in Salesforce testing. Pairing intuitive testing solutions with world-class service, we help you deliver robust, scalable and repeatable testing to achieve release agility, drive down system errors and get the maximum return on your Salesforce investment. Visit provartesting.com to learn more.
Panaya ForeSight
Panaya ForeSight enables organizations to gain immediate X-RAY visibility to their Sandbox and Production Salesforce orgs. ForeSight deeply analyzes the org's metadata, instantly providing a visual dependencies mapping of the org's structure. With these insights at hand, Salesforce professionals can easily plan any change, document, test, maintain and debug their org with minimum risk, and with no disruption to business users.
Posted 12th May 2023 in: Event by Kerry Townsend
---